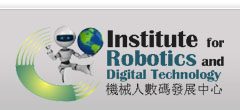 About Us
---
Institute for Robotics and Digital Technology (IRDT), the R&D team under SmartObject Network group, specializes in various robotics platforms and system integration. We are equipped with sufficent design experience and R&D power to serve local and overseas organizations and individual clients. In order to let more people interested in Robot development learn through systematic training, explore appropriate technical concepts, as well as design and accomplish ideal robots, IRDT has taken up the role of training materials development and Robotics Education. IRDT continually spends much effort in new and advanced robotics technology integration so as to provide the public with friendly and satifactory learning environments.
Our trainer leading student Robotics projects in IVE Electronics Department
We work with various educational entities such as universities and Institute for Vocational Education (IVE) in training and technology development. The followings are some examples:
- Interactive Electronics Product Design summer training, Product Design Centre, IVE Kowloon Bay Campus
- Interaction Design and Physical Computing summer training, Department of Multimedia and Internet Technology, IVE Tsing Yi Campus
- iPhone Apps project, Department of Information and Communications Technology, IVE Morrison Hill campus
- Smart Toy Robotics project, Department of Electronic and Information Engineering, IVE Shatin Campus
- Smart Home Robotics project, Department of Engineering, IVE Tsing Yi Campus
| | | |
| --- | --- | --- |
| Adding Arduino to robot | Web-enabled Arduino | Playing with breadboard |
| | | |
We are keen in applying Arduino, an open-source electronics prototyping platform based on flexible, easy-to-use hardware and software in our projects. It's intended for artists, designers, hobbyists, and anyone interested in creating interactive objects or environments.
Arduino can sense the environment by receiving input from a variety of sensors and can affect its surroundings by controlling lights, motors, and other actuators.
We add Arduino to robots, and even ethernet shield with routers for web control. We use Arduino as teaching materials, as well as integrating Arduino with our SmartRobot in training. Stay tuned to our coming training series for primary and secondary school students!
Enquiry
TEL: (852) 3629 8723